Originally published at Tumble Dailies. Please leave any comments there.
… that Sony Ericsson might be launching a new 8.1-megapixel Cyber-shot phone, the C905, news I read from CNet Asia at this page.
This is the photo of the phone: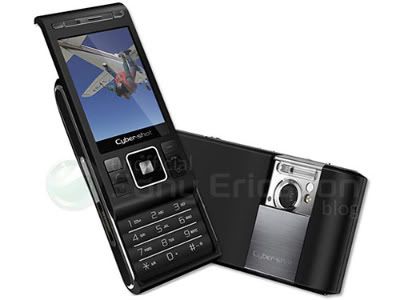 According to this post, it is purported to have:
1. 8.1MP camera with Xenon and LED flashes
2. Imaging features like autofocus, face recognition, image/video stabilizer, BestPic, red-eye reduction as well as a new feature, Smart Contrast
3. Come with Bluetooth, USB to Wi-Fi and 3G/HSDPA
4. Built-in GPS and A-GPS for geotagging photos
5. Integrated screen accelerometer for automatic screen orientation
6. 2.4-inch QVGA LCD with scratch-resistant mineral glass material
7. TV-out cable ITC-60, which allows viewing of photos from the C905 to an external TV screen
8. Ship in Copper Gold, Ice Silver or Night Black
It is rumoured to be announced on June 17, which is the day of the international ICT and telcom tradshow CommunicAsia in Sg, where SE is coincidentally also having a launch event on the same day. So those interested will have to keep their eyes/ears open to see if these rumours are true. Especially the rumour that says it is purported to launch in early Q4 2008.
I for one can't wait for that day to come. If the rumours are true, it's going to be a tough decision for me to make on which phone to upgrade to. *Ears and eyes kept open*